Photo Courtesy of Chartwell Retirement Residences
Atmosphere:
Walking into Chartwell Regency Retirement Residence feels like coming home in the best possible way. You're immediately greeted at the door by smiling faces and offered a beverage. If you're a senior considering leaving the house you've lived in for years, emotions can naturally run very high. Luckily, Chartwell Regency Retirement Residence staff have made it their professional mission to make you feel at ease and well cared for. During my visit, I witnessed staff chatting with residents with genuine trust, respect, and kinship. 
At the helm of all of this liveliness is Robert Maiellaro, General Manager, and Samantha Bruno, Retirement Living Consultant. Robert says that the most rewarding part of his job is that the residents are "like family to me," something that became even more apparent to him during the height of the pandemic when visits from the outside weren't possible. He feels privileged to welcome seniors to a caring community and cater to their individual needs. Samantha echoes this sentiment, "It's so rewarding to see people living a life that's not isolating." As the Retirement Living Consultant, she's often one of the first people that families and prospective residents will connect with, something she feels honoured to be a part of.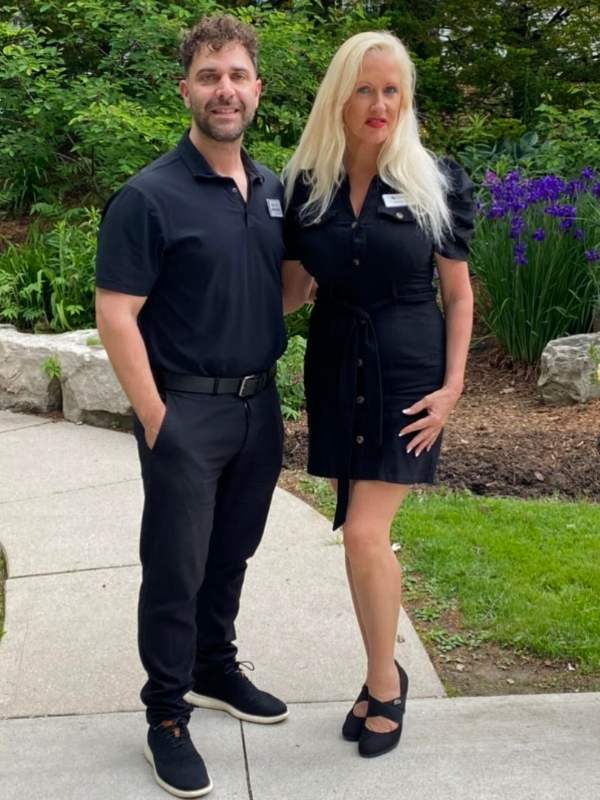 Robert Maiellaro and Samantha Bruno, pictured on the garden grounds
A typical day at Chartwell Regency Retirement Residence includes three healthy cooked meals and an emphasis on activities that focus on physical, mental, and spiritual well-being. Residents can partake in activities like exercise classes, fit mind games, faith services, and chauffeured group outings such as a garden centre or legion patio visit. They also offer services like an on-call physician, esthetician, and pharmacy. 
For Samantha, offering a top-notch service ensures that residents feel a renewed spark for life and that they and their loved ones are comfortable with the transition, "We have the opportunity to be the experts and educate people on aging."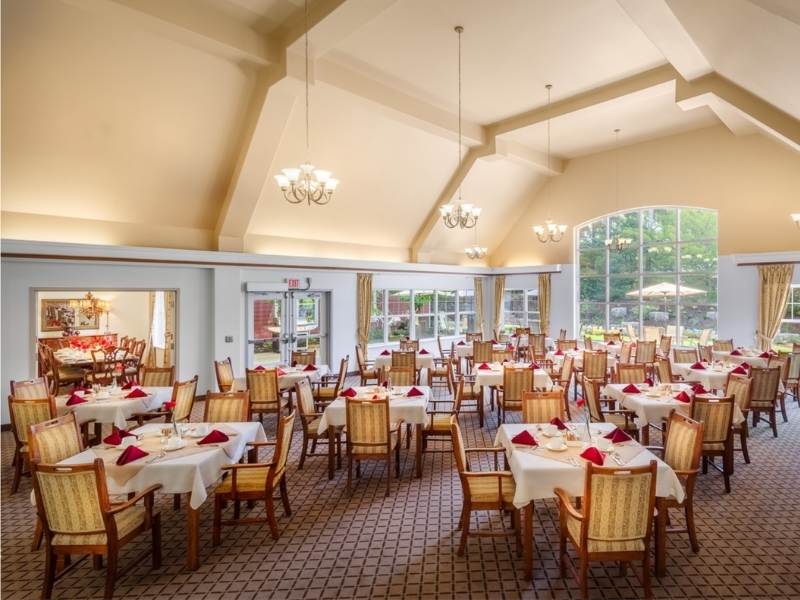 Photo Courtesy of Chartwell Retirement Residences
Highlights:
Apart from the beautiful dining rooms (central and private), verdant gardens, and well-appointed suites, it was apparent that there was an incredible effort to connect residents and their visiting families to residence life through social events. I caught wind of the upcoming musical tribute to Frank Sinatra and Dean Martin with Mimosas that sounded like so much fun that I was trying to come up with an excuse to visit again! 
If you or a loved one is considering moving to residence life, I'm sure you'll be as charmed as I was. For more information, visit chartwell.com or call today at 289-643-1996 
Stay tuned for next month's feature residence! 
About Chartwell Retirement Residences: 
Chartwell Retirement Residences is Canada's largest operator in the senior living sector, with over 180 quality retirement communities in four provinces offering a complete range of services from independent supportive living through assisted living to long-term care. Chartwell is committed to its vision of Making People's Lives BETTER and providing a happier, healthier, and more fulfilling life experience for its residents